The dropping unemployment rate can often be felt in corporate recruiting efforts – how do you differentiate your company from the thousands of other organizations with similar openings also vying for talent?
The status quo for recruitment has traditionally been to provide competitive salaries and benefits, but when employees dig deeper, will they find a satisfactory company culture that will invigorate them and encourage them to be an active participant in your company's culture?
We know that Corporate culture isn't simply about employee happiness at work, it impacts some of the most critical factors of performance. Here at Challenger, we've incorporated community service into our corporate culture, and not just because it's better for employee happiness but because it's ingrained in what we do as Challengers.
COMMUNITY SERVICE FOR AN IMPROVED COMPANY CULTURE
Community service as an aspect of company and corporate culture could be one of those differentiators for potential hires looking to join a team. While some view community service as more than a weekend activity, there are many others who dedicate their lives to it.
However, there is the need to quantify the value of sending employees out of the office during the work week no matter the objective. Is sending the team to the local food bank bringing more value back to your company than simply a photo-op for social media?
In 2017, Deloitte surveyed 1,000 employees and found that volunteerism adds to employee satisfaction:
70 percent agree that companies who sponsor volunteer activities have a more pleasant work atmosphere
77 percent say company-sponsored volunteer activities are essential to employee well-being
A PwC study found that 86% of employees said they would leave their company if their community service program started to slip.
And a True Impact report showed that job satisfaction skyrockets by 47 percent for employees who take part in skills-based volunteer (SBV) programs.
The numbers are proof: participating in community service provides a feeling of community, job satisfaction, and better morale, so why wait to include it as part of your company and corporate culture and values?
COMMUNITY SERVICE AT CHALLENGER
The Challenger Culture Committee helps us to recognize these values beyond our day-to-day work as well, whether it be through our diversity and inclusion initiatives, wellness week, or an outdoor happy hour on a Friday afternoon.
Recently, we held our first Challenger Service week, and across the globe our employees took time out of their busy schedules to go out into our communities to lend a helping hand.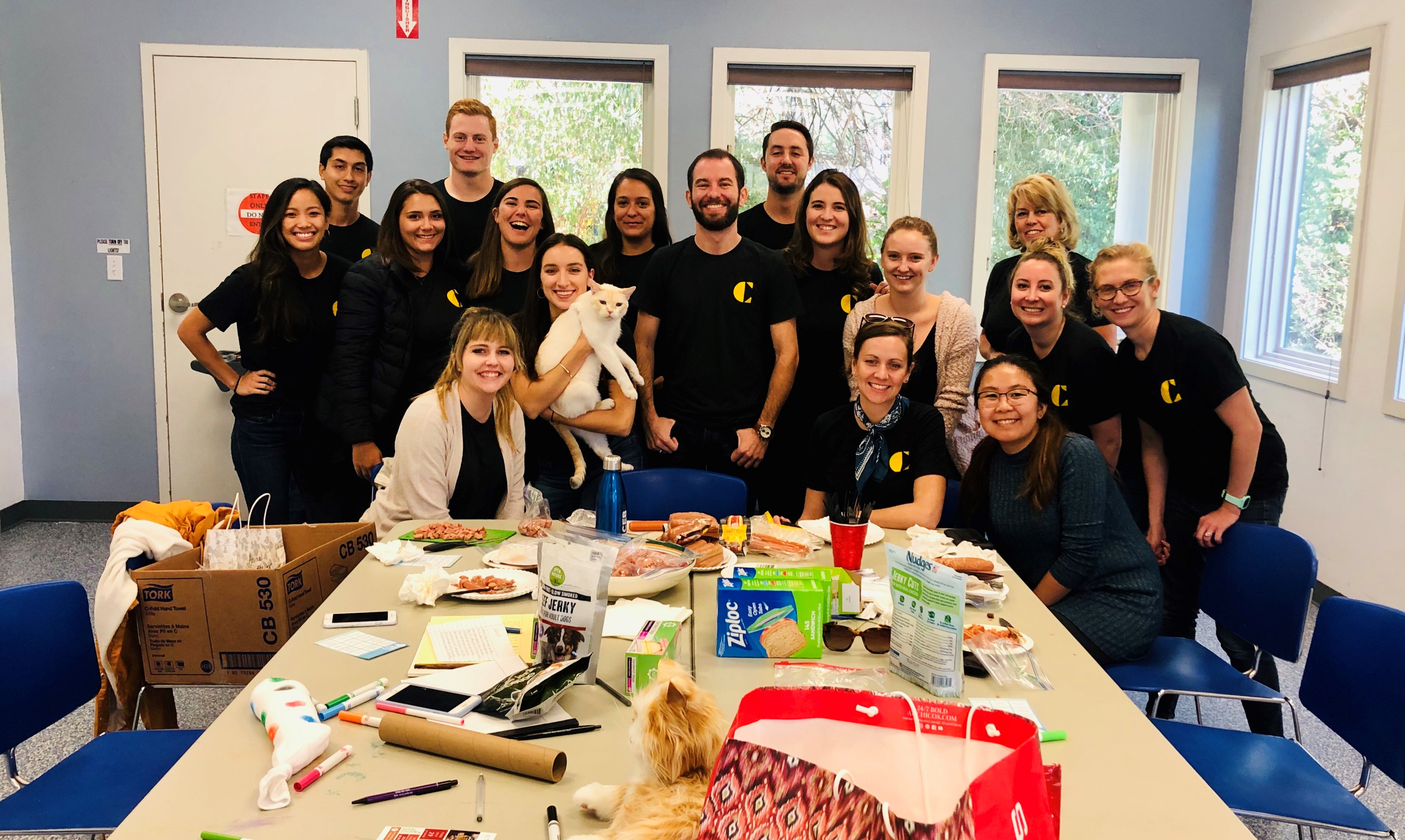 We gathered canned goods, spent time walking dogs and putting together supplies for an animal shelter, cleaned up a local park, and served meals at a community shelter.
CHALLENGER SALES = SERVICE
In our day-to-day at Challenger, we're focused on helping our clients succeed – making their sellers think, act, and feel differently in sales situations. A successful Challenger seller will silence the noise and shed light on the crucial concerns that their prospects are dealing with, but may not yet fully understand. The seller then guides their prospect through the buying journey, making the experience as easy as possible to build their trust and loyalty.
These Challenger sellers ultimately have a service mentality when it comes to their approach to the customer;  teaching the entire sales organization to see through their customer's eyes and understand their day-to-day in order to establish the credibility to teach them something new.
Whether it's in the office, in sessions with our clients, or doing service work in the community, the Challenger team and Challenger sellers bring value and a service-minded mentality to everything they do.
Giving employees the opportunity to spend time helping those in need will build a better community and improve your company culture in ways that extend much further beyond the reaches of the office.